About Us
A Kalyana Mandapam – Elegant, Exceptional & Enormous
Ramlakshmi Paradise Kalyana Mandapam is one of the most popular wedding venues in Chennai since its opening in 2000. Having modern facilities, exquisite interiors, and a prime location makes it a very popular choice for locals as well as those from out-of-town for weddings. We take pride in our standards. Choosing us as your favorite wedding hall will make your special event memorable!
We offer the highest level of comfort with centralized air-conditioning, luxurious suites, fully equipped modern kitchen which makes serving a breeze.
The venue offers a variety of services and facilities that are tailored to suit any type of event. We have an experienced team dedicated to making your event perfect, and our prices are very affordable.
Contact us today to schedule a tour of Ramlakshmi paradise Kalyana mandapam – we promise you won't be disappointed!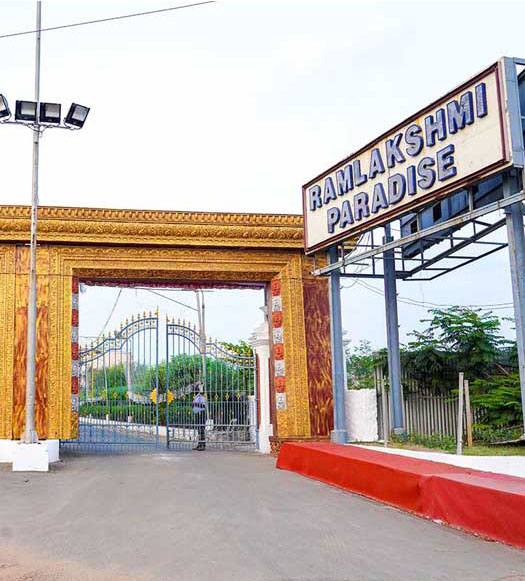 What Our Clients Say
Feedback From Our Clients

Kirthi Jayakumar
"If you're looking for a luxurious cum lucky marriage hall, look no further. The halls are spacious and the rooms are clean and it felt like we stayed at a classy hotel. The interiors truly felt like we were in a palace and it was spacious to accommodate our large family."
01.

Ramesh Krishnan
"We just had our fairytale wedding event and it was absolutely stunning! We worked closely with the professional team at Ramlakshmi Paradise and they helped us create exactly what we wanted. Our guests were blown away by the beauty of the venue and all of the little details that we put together. Thank you for making our day perfect!"
02.

Roopa Unnikrishnan
"We had our corporate event at this venue and we absolutely loved everything about it! The entrance, gardens, and interiors were all beautiful and perfect for our large family. It was also spacious enough to entertain everyone comfortably. We highly recommend this venue for any type of event!"
03.

Ravivarman Sharmila
"We had a harry potter themed Birthday party for our first kid celebration and we had a blast, thanks to the awesome coordination by the mandapam staff. The decorations were on point and there was ample area for the kids to play around."
04.